Don't Be That Guy: 20 Reporter Tweets About #BadPR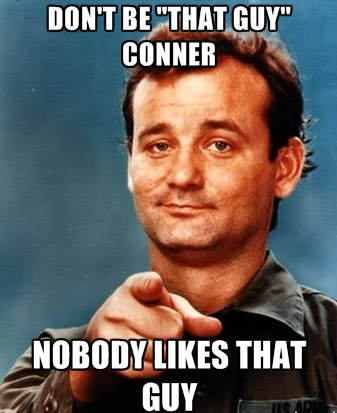 Twitter is far and away the most popular social platform for reporters to share stories and insights. It's also where they go to share complaints about #BadPR.
Of the hundreds of reporters we follow every day, we often see Tweets expressing frustrations with PR ineptitude, arrogance and mistakes - particularly by startups and their agencies.
We keep an eye open for these criticisms -- with fingers crossed we're not the inept/arrogant/mistake-prone target of their ire -- and have have collected a handful for review:
I have never ever written a thing on Mother's/Father's day so why are you pitching me anything on it?

— Farhad Manjoo (@fmanjoo) May 6, 2016
I find it inconsiderate and amateur when startups with predictable news like fundraising or launches give journos 1 biz day notice to cover

— Josh Constine (@JoshConstine) April 25, 2016
Caveman PR:
"writer write about woman"

"she like story about woman"

"Hi XX, you write another story about woman?" https://t.co/yzXS1EfXIX

— Colin Jordan (@colinjordan) May 5, 2016
OK this is some bullshit right here. Normally I wouldn't name names but: Elizabeth Sedlock.https://t.co/deCtX3MFSe pic.twitter.com/rRnsIwcYOZ

— John Patrick Pullen (@jppullen) May 12, 2016
@thekenyeung @rachelking @aprilolanoff @imkialikethecar just got pitched a new play in LA called Bygone Girl, who wants

— Alex Konrad (@alexrkonrad) May 12, 2016
Some incredible facts about TI (I'll keep covering cool startups/apps, so plz keep pitching) https://t.co/ezgwcKulDf pic.twitter.com/P4RAELp91j

— Alyson Shontell (@ajs) May 3, 2016
Calling a reporter unsolicited is not a service. It's telemarketing and it's spam.

— Christopher Mims (@mims) June 1, 2016
THIS: 'I'm not your boyfriend, so don't text me': The 10 PR tactics reporters hate most https://t.co/amUcLdoTHz via @digiday

— Lydia Dishman (@LydiaBreakfast) July 16, 2016
Don't put "quick question" in your email subject line, ever. Especially if you're really just pitching a story. Just don't.

— Lydia Dishman (@LydiaBreakfast) August 9, 2016
I just got an email pitching me an alternative to a service I wrote about alternatives to back in 2010. Guys. No.

— Christina Warren (@film_girl) August 9, 2016
i love when people email complete strangers the same way they would text a friend.... it's so bad

— Kia K. (@imkialikethecar) August 21, 2016
@polina_marinova @rachelking How not to start a pitch to me: "I enjoy your work in Forbes..."

— John Patrick Pullen (@jppullen) August 30, 2016
PR people, do better: Don't pitch people on the Saturday of a long weekend on twitter

(esp when they're sick) pic.twitter.com/mm63c4wKmp

— Mike Murphy (@mcwm) September 3, 2016
A PR person started their email to me by saying my latest cover story was "solid" and now I'm so thoroughly negged I'll do whatever they say

— Alex Konrad (@alexrkonrad) September 6, 2016
@alexrkonrad Once I got this neg/pitch: "The CEO wants to give the story to another outlet, but I told him you should write it." ...Thanks?

— Maya Kosoff (@mekosoff) September 6, 2016
@mekosoff ooh that's so good. I once got "You're less experienced but we are taking a chance on you"

— Alex Konrad (@alexrkonrad) September 6, 2016
PR best practices: subject line, problem, how to solve said problem and what kindof industry backing involved @JoshConstine #AWS #sweastbay

— Aaron (@us_aaron) September 9, 2016
Responding to an email inquiring about my plans for holiday coverage. pic.twitter.com/zAPzeaZShx

— Harry McCracken (@harrymccracken) September 12, 2016
If you emailed me recently and I didn't get back to you and it's a legit email and you're nice you should try emailing again please.

— Farhad Manjoo (@fmanjoo) September 14, 2016
unrelated, i do not recommend using "I've been following you on Twitter" as the subject of your email pitch

— Erin Griffith (@eringriffith) September 20, 2016