A Moment of Gratitude
Another week, another spate of bad news about the COVID-19 pandemic.
But it's not all bleak out there. In fact, we've found that the last few weeks have made us more aware than ever of the kind things people do for us.
For this week's post, we all took a few minutes to express gratitude for someone who has made our lives better, in a big or small way, in the last month.
It goes without saying that we're grateful for medical workers, grocery store workers, pharmacists, transit drivers, and others on the front line of this pandemic. This post is about people much closer to home, who have impacted us in very personal ways.
We hope you enjoy.
Clay
I'm thankful for my boyfriend, Mat. Luckily we have each other during quarantine, because doing this on your own I'm sure would be tough. He usually works a lot. But since we're stuck inside, we've been able to hang out a lot more. This video is a pretty accurate representation of our time spent indoors.
Erica
I'm thankful for one of my best friends, Laura. She dropped off a super-sweet quarantine care package for me (plus two more for our other friends). It included a t-shirt from my favorite small business / artist in Grand Rapids, Michigan (Woosah Outfitters), a puzzle, mini zucchini bread, fresh baked naan and some home made black bean burgers. I'm lucky to have such thoughtful friends during times like these.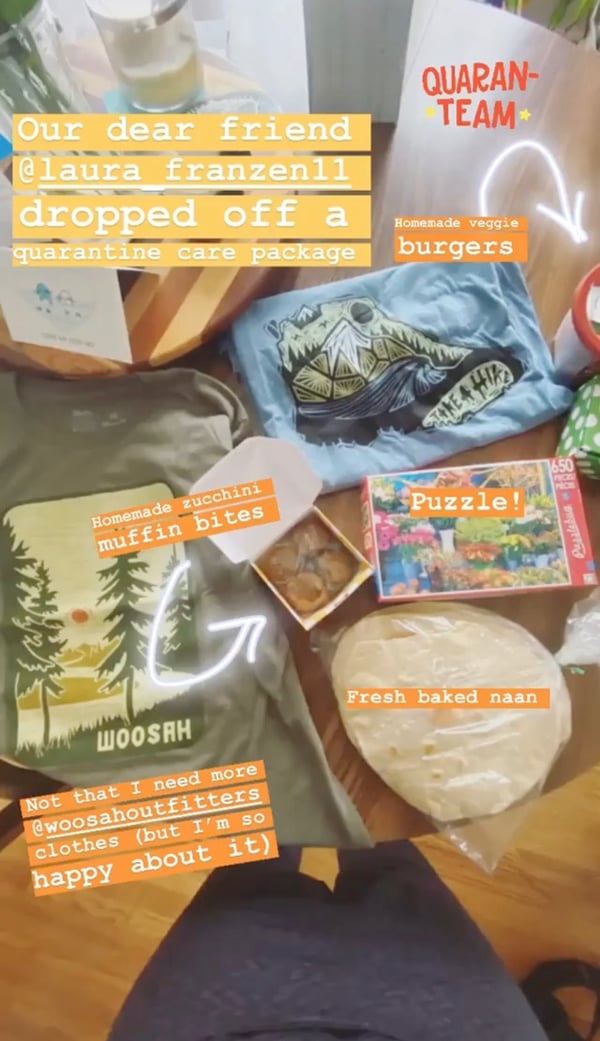 Amy
I'm thankful for my boyfriend, Richard, with whom I share a 500-something square-foot studio apartment / home office. He works on the couch to let me use the desk, takes calls from the bathroom so it's not too loud, and is always keeping the apartment clean. It's not easy to have two people working from a studio-sized home, but I don't think I could've done it without him either.
Brenna
I'm enormously grateful for Carrie Spitler, who is the executive director of Snow City Arts, the nonprofit where my husband works. Snow City sends teaching artists into hospital pediatric units to teach various arts to kids during their stays.
Obviously, the teaching artists were sent home a couple of weeks ago, but since then Carrie has worked tirelessly with the organization's board and partners to develop a remote teaching program – one that ensures the teaching artists still get paid (so far through April!). With a kid of our own on the way, I can't really express how much it means that she's working so hard to make sure our family continues to earn income right now (and I'm usually pretty good with words!).
Jack
I'm thankful for my dad and my brother Grant. I'm glad they were able to visit me back in February, back when we could leave the house. Texts and family FaceTimes with them are helping me get through this craziness.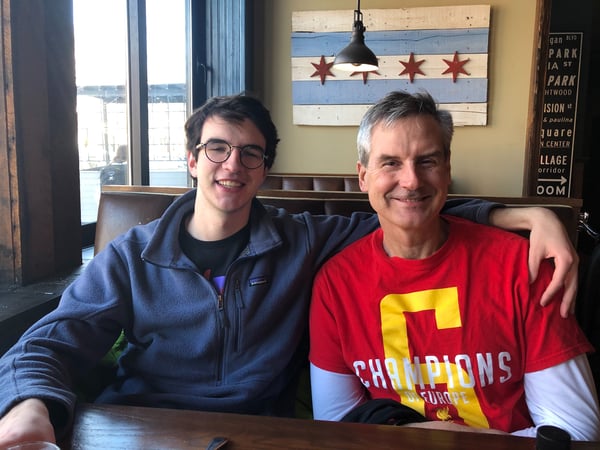 Brian
I'm grateful for my best friend, David. It's funny we're sharing gratitudes, because for the past three weeks, David and I have been doing an online Yale class on Coursera about well-being and happiness and our homework for most of last week was writing down five things we were grateful for every day.
I'm grateful that he invited me to take the course with him, and I'm happy to have him as a friend. I've always considered him one of my wisest friends, even though we're the same age. He has his own startup based in California and he's served as an inspiration for me to want to become better every day. If there's a silver lining to the current crisis, it's that I've gotten to connect with David almost every day.
Hunter
I'm grateful for my wife, Adele. Ever since she had to leave her job due to COVID concerns  – and ever since our one-and-a-half year old daughter, Winnie, had to leave daycare for the same reasons  – she's been a fountain of energy around the house. That's included cooking all kinds of creative things that I would normally think only a professional could create: loaves of bread, pretzels with a cheddar cheese pub dip, butternut squash pasta, homemade animal crackers, and more.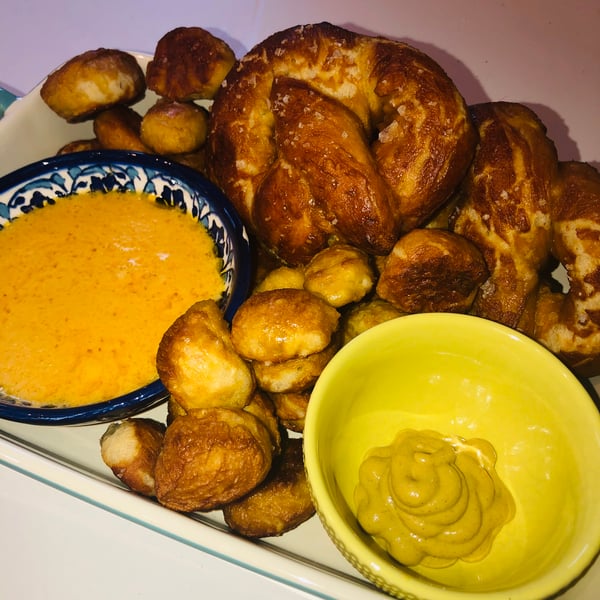 She's also been really inventive in coming up with activities for Winnie to do. She made a homemade felt board with little farm animals for Winnie to stick on and pull off, and a homemade coloring book for Winnie to scribble on. I'm constantly impressed and grateful for her. You rock, Adele!
Becca
I am thankful for my best friend, Josh (aka Junebug), who lives in the Bronx and still finds time to send me jokes every day. It might be too soon for jokes, but HELL, it's necessary to laugh during these stressful times. It's become a goal of mine to genuinely laugh at something every day, at least once a day (hopefully more). Josh makes that easy for me.
We're all going through it right now and it's comforting to know that we are all in this together, even when some of us are far away from our loved ones. So thank you, Junebug, and thank you to all the best friends out there finding time to set up punchlines, sending Snapchats of stupid faces, and sharing a little laughter.
Julia
I'm grateful for my friends Kelly and Matt, who heroically let me borrow their cars last week while my boyfriend and I moved to a new apartment. While I would not recommend boxing one's environment while homebound and relocating in the middle of a pandemic, I can't say enough positive things about how much I appreciated this help from our friends (at a safe and sanitized distance).
We may not be able to share space with the people we love right now, but their generosity and willingness to lend a hand was a welcome reminder of why Chicago feels like home even in moments of transition.
Jules
I'm thankful for my friend Gabbie, who's been teaching Zoom ballet classes for students at my old studio. We danced together our whole lives so it's fun to see her in the teacher's shoes, albeit in her makeshift basement setup broadcast on my computer screen. I'm glad to be able to keep dancing a little in these stationary times and I'm grateful to my longtime friend for enabling that.
Jillian
I am very thankful for my mom and dad. I'm staying at their place while the quarantine is going down, and their presence makes quarantine a lot better. They both love using their senses of humor to make the best of bad situations, so our house is constantly filled with laughter. They are not above acting silly in the name of diffusing fears and anxieties, and so I have been audience to some world-class Ronald Regan impressions, TikTok video reenactments, and voiceover commentary of what is going on in our fish's mind when he gets fed.
Josh
I don't know her, so maybe I shouldn't be allowed to use her for this post, but it's my company dammit. I'm thankful for Hillary Mantel, who recently completed her three-part Wolf Hall Trilogy with The Mirror & The Light. Along with Wolf Hall and Bring Up the Bodies, none of these are fast reads, but in a way they are easy reads because the language is so perfect and the world of Henry VIII is so well created.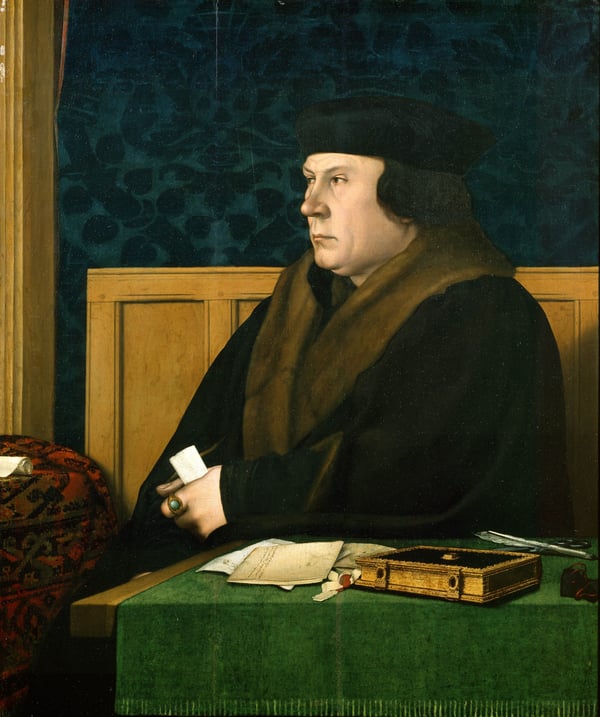 I love how she reimagines Thomas Cromwell, typically regarded as a malevolent and manipulative bad guy, as someone very different. Manipulative, yes, but with honor. And no, you don't have to know anything about Henry VIII or even care about the British monarchy to enjoy them. Amazing books, and a great break from the reality we're living in today. (If this encourages you to buy the books, please do so from the excellent indie bookstore Anderson's.