15 Resources to Help You Level Up Your Content Marketing Game (or Career)
A couple of years ago, I boldly declared in a Propllr blog post that one great content marketing strategy is to give away your best secrets for free.
I stand by that claim. Today, I'm here to prove it by highlighting the 15 resources that have been invaluable to me as a content marketer, both in my day-to-day operations and in my longer-term career growth.
If you, too, are a content marketer (or somehow find yourself in charge of a content marketing program), I hope you'll find something useful among them.
One caveat: I decided to limit this list to things I personally have found useful.
I'm not making any claims about whether these are better than other resources out there – just that they've worked well for me. If you happen to know of a better resource than one I've mentioned here, please let me know – I'd love to try it!
Let's get into it.
3 Content Marketing Newsletters to Subscribe To
There are too many newsletters.
There are also too many good newsletters, which breaks my reader's heart.
I've signed up for and unsubscribed from lots of these babies in my time as a content marketer; the three I recommend here are ones I always look forward to and always make time to read:
Swipe File: Put out by Jimmy Daly, this newsletter is my hands-down favorite. It's a weekly curation of helpful articles from all over the web, plus a "tweet of the week," plus a random links section. I always find at least one thing I love. Do yourself a favor and

subscribe

if you haven't already.
Animalz: Animalz is a content marketing agency so it's maybe bonkers that I'm suggesting you

subscribe to their newsletter

. But. The content is so good. In addition to sending at least one post from the Animalz blog each week, the newsletter includes a "what we're reading" roundup, with pieces that are frankly interesting and at least tangentially related to the work of content marketing.
Orbit Media: This one comes out biweekly and includes a link to (and excerpt from) just one blog post. Just one! And it's always super useful and practical for content marketers. (Recent subject lines: "Your complete guide to internal linking," "The 3-step process for content strategy," "What's working for bloggers in 2020?"). The frequency and focus make this one easy to keep up with. The content it includes makes it invaluable. (

Subscribe here

.)
8 Essential Content Marketing Tools
In addition to my earlier caveat about this list being limited to my experience, I'll also note that I'm not including basics like content management systems on here. This list includes tools that we use day after day to make our lives easier and more organized – and to make our content better.
1. A subscription to a style guide
You should have a style guide. The easiest strategy here is to adopt one that already exists (CMS, AP, etc.). If you do that, buy a subscription to the online guide so everyone on your team can double-check the weird little edge cases that are bound to come up when you create enough content (ours is just $41 per year).
We use the CMS, which we chose in part because it's pro-Oxford comma.
2. Capitalizemytitle.com
This simple tool is a title case checker. It lets you toggle between style guides to see how to properly capitalize titles for each (and H2s, if you use title case for H2s). Super simple and super helpful when your brain is fried.

Remember: It's okay to veto the robots sometimes
3. Asana
It's one of the many project management tools on the market. I'm sure Trello and Basecamp are also great options, but I don't have enough experience to recommend them.
What I love about Asana:
There's a free version that allows for up to 15 users.
It lets you color code by project or client.
It allows for subtasks (which we use to assign revisions and review tasks associated with writing projects).
It offers multiple views (calendar, to-do list).
If you set it up right, you get the occasional unicorn flying across your screen when you complete a task. Very satisfying.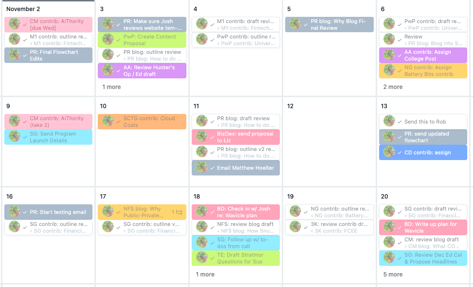 A beautifully color-coded Asana calendar
It also offers more advanced features like portfolios, chat / email, reports, and more. I haven't used these because we haven't needed to, but they're there!
4. Google Analytics
It's the old faithful of digital marketing, and it remains a powerful tool for tracking content performance. If you're not yet using Google Analytics, you should be: it's free and only requires you to add a small snippet of code to your site.
Once you've got it set up, you can create performance dashboards that save you a lot of time and energy – and that alert you to sudden changes that indicate something might be wrong (or very right, as when a piece of content goes viral).
5. Ahrefs
Track inbound links, keyword rankings, and traffic, to your site and others'. And more. Much more. Yes, there are a lot of tools that do these things. What I like about Ahrefs is that the "Lite" subscription (just $79 per month) offers just enough functionality for how I'm using the site now.
If we need more functionality in the future, I can easily upgrade and work with a format I'm familiar with.
6. The Noun Project
Visuals are not my strong suit, but The Noun Project helps a lot.

Me (confused) + The Noun Project = Me (happy)
This is a massive database of icons that you can download for free (to use with attribution) or for a small fee. We're paying $39.99 for a year's worth of downloads. Check out the blog to see all the ways we've used them!
7. Keywords Everywhere
Anyone writing with SEO in mind needs a reliable tool for tracking search volume.
Google's Keyword Planner is great if you're running Google Ads, but if you're not (we're not), it doesn't show exact search volumes. Keywords Everywhere is a browser plugin that offers volumes for search terms in SERPs, plus related search terms, plus related search term volume (which you can toggle on or off).
Another win is that rates are reasonable: $10 for 100,000 credits (one credit = one search).
8. Google Alerts
The old standby of content marketers everywhere, Google Alerts remain as valuable today as they were in 2007 when I started using them. Set them up for specific keywords related to any topics you want to stay abreast of. The alerts can be delivered daily or weekly, straight to your inbox, and filtered by media type.
I usually open the alert email, scan the headlines, and click on articles that seem relevant. Even if I don't read every article, I can get a sense of what's going on in an industry.
4 Other Content Marketing Essentials
Some days, it feels like everything I do ends up feeding my content work. But certain activities definitely contribute more than others. Here are some of my favorites that don't fit neatly into another category.
1. Dryer's English
Consider this "Utterly Correct Guide to Clarity and Style" a Strunk & White for the 21st century. Dryer's pithy commentary is helpful, clarifying, and often funny. He acknowledges grammar's "rules" while also acknowledging that they're all made up and subject to change.
I also recommend following Benjamin Dreyer, the book's author, on Twitter if you enjoy snarky grammar takes (and if you've made it this far in the post, I'm guessing you do).
I'm reminded by @MerriamWebster that VN's use of "forego" rather than "forgo" in the fourth paragraph of the Lolita foreword (say *that* four times fast) is common, acceptable practice though not to my taste.

...one would have to forego the publication of "Lolita" altogether...

— Benjamin Dreyer (@BCDreyer) February 14, 2021
The ever-topical "forgo" vs. "forego"
Hot tip: if there is an editor in your life, you may also want to get them STET!, the board game based on this book.
2. NPR (or another favorite news source)
How much do I love NPR?
Let's just say I have a dance for the Morning Edition theme song (new version and old version).
In all seriousness, though, consuming news regularly is essential to the work of content marketing. To meaningfully engage with any industry, you have to understand the larger context in which it operates, which means having a general sense of current events.
I also can't count how many times a random story on NPR has led me to a key bit of support information I needed for a client project.
3. Superpath Slack group
Formerly the Content Marketing Career Growth community, this Slack group was founded by Jimmy Daly, whom you might remember from being the curator of my favorite newsletter. As of this writing, the group is more than 2,000 members strong and includes a wealth of wisdom and knowledge about content marketing.
I love browsing the "ask a question" channel, where people crowdsource their content challenges and other people offer their experience. There are also channels for must-read items, career advice, job postings, and more.
As of now, it's invite-only. If you're interested in joining, let me know and I'll invite you!
4. Your phone and email account
One extremely un-fancy thing you can do to improve your content marketing life is email writers when you like their work.
I like to send a note when a piece is either particularly useful to me or when I just enjoy the writer's style. Sometimes I connect with these people on LinkedIn, but if I can find an email address, I usually just send a note.
I don't have a tidy explanation about how this will make you a better writer, but you will get a bump of serotonin by boosting someone else, and that can be enough to power you through when you need it.
Another tool I like to use is my phone, to stay in touch with former colleagues and people I haven't seen in a while. Especially in this pandemic era of Zoom calls, a phone call check-in can be refreshing and uplifting.
Again, there's no immediate performance or business gain here, though the reality is that a strong network is a powerful tool no matter what your current project is.
Know of Better Content Marketing Resources? Tell Me!
All told, this content marketing "stack" comes to about $1,056.99 per year – a dang bargain, in my opinion.
As I've mentioned at least twice, this list isn't meant to be definitive or exhaustive. In fact, one of the delights of content marketing (and any industry, I imagine) is finding a new tool or resource that makes your life and / or work better, easier, or more interesting.
If you rely on tools, resources, or groups I didn't mention in here, I'd love to hear about them. Or maybe you think one of my recommendations is trash – if so, I'd love to hear why (but maybe wait until 10:00 am or so, when I'm bound to have enough coffee in me). Either way, I'm reachable at brenna@propllr.com.

Criticism received after coffee = better