4 Lessons the Chicago Startup Scene Has Taught Me in 4 Years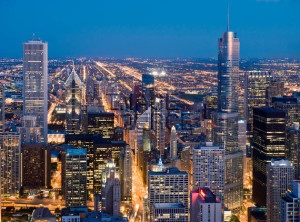 This article by Propllr partner Mark Meadows originally appeared in ChicagoInno
The Chicago startup scene is on fire right now. It's incredible to witness - both up close, helping founders craft their stories, and from afar.
I came to Chicago exactly four years ago - Super Bowl weekend, 2012 - with no startup exposure. Before that, I wouldn't even call myself an interested observer; I had little baseline knowledge.
But as I looked back on email conversations from those early days, it became clear just how much the Chicago startup scene has matured, and how much I've learned in the meantime. Here are four of my favorite lessons.
Lesson 1 - Tech companies are not built overnight.
If you are outside the tech community, it's easy to see headlines about startups raising big rounds and think that these businesses were overnight success stories. One day, the founder has an idea, and a short time later, the company is a billion-dollar unicorn.
It's what happens in between that gets condensed. There is (almost) no such thing as an overnight success.

One of Propllr's first startup clients - who we still work with today - was Insureon, an innovative and technology-driven online marketplace for small-business insurance. When we started our PR program, Insureon had just recruited a CEO to build what had been a niche solution for tech freelancers into one that could serve micro businesses in any industry - from janitors to restaurants and home-care workers. At the time, Insureon was about 10 people. Now, headcount stands at 200, and the company is making a profound impact on tens of thousands of small businesses.
It would be easy for people who aren't familiar with the story to feel that Insureon was simply "born" at that size and prominence, but the numbers suggest it's years away from completing its mission.
And the data backs that up.
According to CB Insights data, since 2007, the average time from a tech company's first funding round to an IPO was 85 months - more than seven years. And even when companies exit via M&A, it still takes five years. (It leads me to wonder if some other companies that grew fast off of hype would have benefited from a little more time in the oven.)
Lesson 2 - Successful startups create a domino effect across industries.
As much as I hate reading articles about the "Uber for X," I understand why the comparisons exist. The comparison provides both instant understanding and credibility - if Uber was successful in changing the landscape for transportation, this startup can be successful doing it for [fill in industry here].
But the comparisons also exist because of a domino effect. Smart entrepreneurs see one technology working in one industry and then find ways to apply it to others.
That's how the whole subscription economy (and the sharing economy before that) was born. The idea in and of itself wasn't new or novel - monthly subscriptions for flowers, fruit or meat have been around for decades. But the dominoes started falling from successful tech startups like Netflix, which made consumers accustomed to recurring monthly charge below $10.
So, one startup caused a chain reaction, and the success of subscription startups has caused the next set of dominoes to fall - the startups that will help you manage subscriptions. That's right, subscription services have become so popular that other startups (like AskTrim.com) have emerged to monitor recurring bank account charges.
Lesson 3 - First-mover advantage is overrated. Execution is not.
One of the things that separates entrepreneurs from wannabes is that successful entrepreneurs are not detracted from the fact that someone else had the idea first.
Chicago is home to two companies, ParkWhiz and SpotHero, that created a mobile parking marketplace. Avant, one of four Chicago unicorns, didn't invent alternative lending. Shiftgig followed LinkedIn by 10 years as a resume and job search platform. And Reverb.com wasn't the first marketplace where you could buy or sell musical instruments and gear (in case you haven't heard of eBay).
Now that they are established, it's easy to see how these companies are filling in important gaps in the market. But at the time they launched, the same probably couldn't be said.
None of those startup founders were dissuaded by first-mover advantage. Instead, they saw their larger competitors' success as reasons to enter the space, probably taking the view that the competitor already demonstrated market demand and showed where some weaknesses lie. That's invaluable information that successful entrepreneurs take to offer a more-focused product.
Lesson 4: Chicago startups are their own breed. And it should be celebrated.
I am bullish on Chicago tech.
Will growth continue at the pace as it has the past two years? Not forever. But is this a bubble? I don't believe so. (Bubbles tend not to happen when so many people see it coming.)
Big failures will happen. Funding will tighten. Each of these will slow the pace of innovation, but ultimately I believe the scrutiny it brings will be good for the ecosystem as a whole.
When you look at Chicago, the startups that are growing have strong track records. You see very few, if any, of the Theranos-style companies that are big on hype, small on results. Instead, companies like Whittl are the norm - solid businesses, using technology to enhance experiences and fill a gap in the market.
As long as Chicago plays to those strengths, the city can capitalize on the all-things technology secular movement.