The Early-Stage Startup's Guide to TechCrunch (They're Just Not That into You)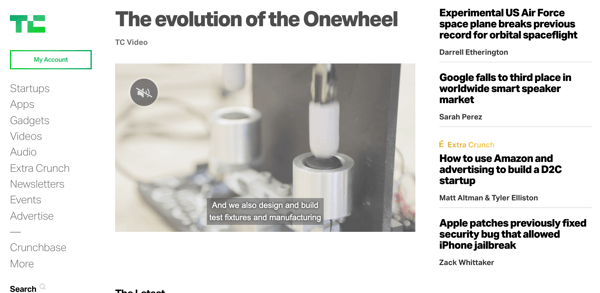 TechCrunch.
The go-to site for funding news. The place to spot the future unicorn still getting its feet under itself. Where you go to get your startup on the tech world's radar.
Not so fast.
When Propllr launched as a startup PR firm eight years ago, TechCrunch was indeed the place to see and be seen for early stage companies. (If TechCrunch had a better search function, this is where I'd include links to stories on early funding rounds by notable Chicago startups like Groupon, Grubhub, Braintree, Orbitz, OpenTable, etc.)
TechCrunch was without question the go-to destination for funding news (and for fun, here's what it looked like eight years ago. And for more fun, here's what Propllr.com looked like around the same time).
Other good outlets came and went, like PandoDaily, but TechCrunch outlasted them all.
But today, if you're an early stage startup, it feels like TechCrunch just isn't that into you. But is that feeling correct? We decided to crunch some data and evaluated one week of coverage, from Monday, July 22 to Friday, July 26.
We looked at every article we could find and categorized them as best we could. We wanted to see – out of all of the coverage in one week – how much of it was actually about the early stage startups TechCrunch is known to spotlight.
Who (and What) TechCrunch Writes About: The Article Breakdown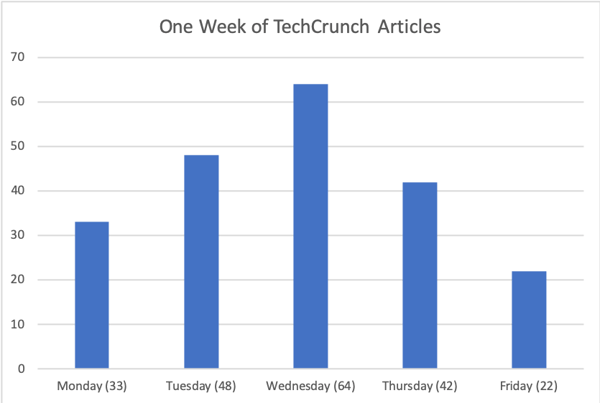 Let's pause for a minute and appreciate the above data: 209 articles in five days is unbelievable.
It's quite likely that no media outlet on earth works as hard as TechCrunch. They're prolific, they know their shit, they have a healthy skepticism (looking at you, especially, Josh Constine), and their articles are well written, to boot. If we're lucky, some day they will share their secrets.
So 209 articles in five days. Almost 42 per day. (Again, wow.)
Of those 209 articles, one would think at least half would be on early stage funding rounds – I mean, that's what TechCrunch is all about, right? Wrong. Here are the numbers:
Funding Size

Article
Count

Portion of All Articles

Under $10m

10

4.8%

$10m to $20m

5

2.4%

Total

15

7.2%

That's right. On TechCrunch, regarded as the go-to source of all startup funding news, just over seven percent of stories covered sub-$20 million funding rounds.
So if they're not about early stage startups, what's the focus of the other 93 percent of TechCrunch stories? Well, we looked into that, as well:
Story Type 1: $20m+ rounds – 12% of articles
As you'd expect, TechCrunch's interest picks up a bit as the rounds get bigger, with 26 articles about funding rounds north of $20 million. But still, even with these large and typically later-stage rounds, we're still talking less than one in five articles total.
Story Type 2: FAANG and other big tech players – 39%
From coverage of hot new tech products to the ethical ramifications of face-tracking and autonomous vehicles, TechCrunch is keeping an eye on big tech:
FAANG Company

Article
Count

Portion of All Articles

Apple

12

5.7%

Google

11

5.3%

Microsoft

11

5.3%

Facebook

10

4.8%

Amazon

9

4.3%

Tesla

8

3.8%

SpaceX

8

3.8%

Netflix

5

2.4%

Uber

3

1.4%

Snapchat

2

<1%

Youtube

1

<1%

500 Startups

1

<1%

Total

81

39%
Story Type 3: Major tech issues and trends – 49%
TechCrunch has a strong reputation for reporting on the tech industry's top trends and, when called for, calling out bad actors, threats to civilization, and the like. Here's the week's breakdown:
Major Issue / Trend

Article
Count

Portion of All Articles

Macro issues

21

10%

Automobiles

14

6.7%

Data privacy

13

6.2%

AI

10

4.8%

Fintech

9

4.3%

Autonomous driving

9

4.3%

Space

8

3.8%

The cloud

8

3.8%

Streaming

4

2.0%

Streaming

4

2.0%

Cybersecurity

4

2.0%

Robots

3

1.4%

Total

103

49.3%
So now we have a pretty good idea about TechCrunch's coverage. They cover big issues, big companies and big funding rounds. And then a handful of smaller rounds.
Here's a visual representation:
Small rounds are the smallest sliver of the TechCrunch pie.
Which TechCrunch Reporters Write About Early Stage Funding News?
Once we confirmed our belief that there aren't many early stage funding articles being written, our next questions were:
Is there a TechCrunch reporter who "owns" this kind of thing? (Hint: No.)
Do these articles teach us anything about what TechCrunch looks for when they decide whether to cover an early stage funding round? (Hint: Yes.)
In answer to the first question, for better or worse, there's not one reporter who does most of the startup funding news. In fact, we were surprised by how diversified it was. It's almost as if the reporters are required to write at least one – but no more than two – early stage funding articles per week.
To answer the second question, we compiled a list of the smaller-funding-round TechCrunch news stories, along with a knee-jerk assessment of what may have been behind the story's selection. The article-by-article analysis can be found at the end of this blog post as a sort of addendum, but the long and short of it is that:
A wide variety of TechCrunch writers cover smaller early stage startup funding rounds.
Knowing what a TechCrunch reporter is interested in – even if it's not a formal beat – can help you break through.
Being part of a broader technology trend or important topic helps.
Having impressive and notable founders or VCs is important.
Even if your round is small, it can break through if it's a C or later round.
The Best Process for Pitching Your Startup Funding News to TechCrunch
TechCrunch really doesn't write much about early stage startup funding rounds, and there's no one reporter who dominates that kind of coverage. So how can an early stage startup improve its odds of getting coverage of its funding round in TechCrunch?
Step one is to think of TechCrunch reporters not in an "I need something from you" transactional way, but as a relationship like what you would build with a prospect before you went for the sale. Check out our tips for putting the R in public relations or read this great advice ($) from TechCrunch writer Danny Chricton.
Here's How to Pitch Your Funding Round to TechCrunch
Once you've got your content and press release in order ...
Set an embargo date and time for your funding release (e.g., Monday, August 19, at 8:00 a.m. EDT).
Start your outreach effort four or five days before you want the news to break.
Your first email should be to share just enough details to make them bite, but not so much that they can write a piece based on it. (Don't share the release until they agree to your embargo.)
Be sure whatever is noteworthy about your news is very clear – not just the funding amount. Mention TechCrunch-centric reasons why it's newsworthy (e.g., the founders' pedigrees, the size of your market, any name-brand investors, any hot categories you're in – like AI, autonomous vehicles, etc.). Share any good visuals that are available.
Start with the general TC press release submission email – it works (tips@techcrunch.com).
If you get no response, find a TechCrunch reporter who has covered your space, a competitor, a smaller funding size, or the same geography. It may not matter but it's a way to narrow things down, and to show the reporter you've done your homework. Here's a list of staff members with beats and interests.
If there are multiple TC reporters who you think could be a fit, don't hit them all at once – that's spamming. Pitch one, wait a day, and then pitch another if you hear nothing back. As you do this, let each successive reporter know who you've already tried reaching.
Be ready to be asked for an exclusive – in other words, don't share your news under embargo with other outlets until you know how and whether TechCrunch wants to proceed.
Whether TechCrunch agrees to the embargo or your efforts fall on deaf ears, the above steps should work for any other publication you want to be in – additional tech outlets, relevant industry trades, local business journals, etc.
Now, an important point: If TechCrunch says they will only cover your news if they have it as an exclusive, that means you can't share it with any other outlets until the agreed-upon embargo date and time. You can, of course, queue up your release to go out exactly when TC says they'll publish, using an email scheduling tool to prep everything well ahead of time.
Why I Felt Compelled to Write about TechCrunch's Startup Coverage
I felt like this post had to be written because so many startup founders don't really understand TechCrunch today, NOT because we believe TechCrunch is the most important place to be. In fact, for many startups, TechCrunch won't move the needle for those most important business metrics of leads and sales.
In fact, we just had a client get a $1B prospect from an online trade publication placement and a $50B prospect from a blog post we wrote.
For a high-level view of what you should be doing – and what you can do on your own without investing in a relationship with a PR firm – check out our DIY Guide to PR. It's got some great actionable advice that anyone can take.
And if you still have questions, hit me up!
(Editor's Note: We did our best to look through the entire TechCrunch site for a week's worth of content. It's possible articles were missed and / or miscategorized. Ultimately, however, the gist is the same.)
––––––––––––––––––––––––––––––
An Analysis of Each Early Stage Funding News Article for the Week of July 22
As mentioned earlier, we did an article-by-article analysis of the early stage funding news that WAS covered to see what we'd learn. The learnings were shared above, but here's the analysis:
Kate Clark wrote Sales professionals get a bad rap – Bravado wants to change that. Why was this news covered?
Maybe because… It's relevant to a big issue (diversity), something that Kate is quite interested in. It's possible that this was also an exclusive ("emerged from stealth").
Megan Rose-Dickey wrote Onward raises $1.5 million to offer round-trip rides to older adults needing assistance. Why was this news covered?
Maybe because… It addresses her two beats: transportation (shared rides / mobility) and inclusivity (designed for an underserved, older adult population).
Lucas Matney wrote The 'Costco of cannabis' raises $2.8 million for a membership weed delivery service. Why was this news covered?
Maybe because… It's a story with an easy-to-understand trope – "X of the Y" (read more about using tropes in your pitching). It also features a Y Combinator alum (big brand name), and it has to do with a big startup topic – cannabis.
Steve O'Hear wrote Legaltech startup Genie AI scores £2M seed for its "intelligent" contract editor. Why was this news covered?
Maybe because… AI is an important topic for TechCrunch. Genie AI is based in the UK, and TechCrunch is increasingly international.
He also wrote this one: LIV, a startup making VR gaming more interactive for audiences, raises $1M from Oculus founder and Seedcamp. Why was this news covered?
Maybe because… This one ticks several of TechCrunch's boxes: it's got big topics (gaming and virtual reality) and a big-name participant, Oculus founder Palmer Lucky.
Catherine Shu wrote a couple of pieces: Indonesian startup Pomona raises $3 million to help brands increase engagement with cashback offers and Raena raises $1.82 million to help influencers in Southeast Asia launch their own consumer brands. Why was this news covered?
Maybe because… Neither of these startup stories seem extraordinary, but both are based in Indonesia, which fits TechCrunch's international angle. Catherine covers Asia for TechCrunch.
Anna Escher wrote Dataplor raises $2M to digitize small businesses in Latin America. Why was this news covered?
Maybe because… Not entirely clear, but likely, at least in part, because of the international angle.
Ron Miller wrote Ethyca raises $4.2M to simplify GDPR compliance. Why was this news covered?
Maybe because… This piece has some interesting backers, and it plays squarely in the privacy space – a hot technology topic.
Jordan Crook wrote Airbud raises $4 million to add a voice interface to your website. Why was this news covered?
Maybe because… Voice UX is a big topic in tech, and this company operates in that space, à la Alexa and Google Home.
Natasha Lomas wrote Muzmatch adds $7M to swipe right on Muslim-majority markets. Why was this news covered?
Maybe because… This one is an easily told "X for Y" story. It also has an "inclusive tech" element as it shows how common dating apps have failed to serve a huge underserved demographic.
Ingrid Lunden wrote TrustRadius, a customer-generated B2B software review platform, raises $12.5M. Why was this news covered?
Maybe because… The B2B software review space is growing fast, with G2 and several others getting attention as well. While it wasn't a huge round, it was a Series C, which may have suggested that the company had more traction that most.
Brian Heater wrote two pieces: Freedom Robotics raises $6.6M to take the hassle out of founding a robotics startup and Inventables raises $11.5M for its desktop milling technology. Why was this news covered?
Maybe because… For the first article: robots are cool. There are some very impressive founders, and the investors are top notch. For the "Inventables" piece, it, too, had great investors and it was a Series C, suggesting traction and permanence for a startup.
And last, Anthony Ha wrote Mixhalo raises $10.7M to bring better sound quality to live events. Why was this news covered?
Maybe because… Rock and roll, man. Plus some great investors and very cool founders. And, did we mention, rock and roll?