Propllr's First Annual Holiday Gift Guide
Looking for a last minute gift for your favorite PR person?
We are nothing if not helpful at Propllr, so here is a list of great ideas of gifts we love and/or covet this year.
From Sammi
I ordered this for my mom and am so excited for it to come in. She loves Buzzfeed's cooking videos so being able to customize a cookbook of them for her was perfect! You get to pick out what types of food or characteristics you want -- such as "Health nut" or "party cocktails" -- and then put a personal note in the front. I ordered a hard-cover for $30.
For your friend who is always cold, these are perfect. I got my best friends (and me) matching pairs, along with Swiss Miss Mint Hot Chocolate and a Gilmore Girls themed mug this year! All together this gift is under $20 per person!
For that person you want to spend a little more time with - event tickets to a show are a great gift! Right now, I am looking at tickets for the latest Second City show, The Winner...of Our Discontent, or perhaps Holidazed and Confused.
Some of the best gifts I have received have been board games and card games. I am a big fan of Cards Against Humanity (crude at times, so beware), and combine with with some of the extension packs, such as "The 90's Nostalgia Pack" or "2016 Election Game," to add to it.
From Kaitlin
I saw this company on Shark Tank and now I won't order flowers from anywhere else. Everyone I've given "Bouqs" to has been over the moon about their flowers. And for the gift that keeps on giving, Bouqs offers a subscription service where you can set up weekly, monthly or quarterly deliveries. Fresh flowers all year round? Yes, please.
I received one of these for my birthday and I'm in love with it. The company was founded in Chicago, the watches are made in the U.S., and they give 10 percent of their profits to a different charity each month. They're more than a Timex but way less than a Rolex -- worth it for something high quality you wear every day.
These vegan cookbooks are absolutely hilarious and really bring joy to cooking. While I'm not vegan myself, these books helped me be more receptive to the idea of using different spices and vegetables and I love that I have the option to add chicken or fish to any dish to cater to my tastes. WARNING: These books use incredibly foul (no pun intended) language so they are not for the faint of heart.
Someone bought this for me off of Amazon and the amount of money I have saved is incredible - that Starbuck's ritual can really catch up to you and your wallet. This machine is an all in one and I use the milk steamer/frother on a regular basis, not just for espresso, but also for tea and hot chocolate.
From Leor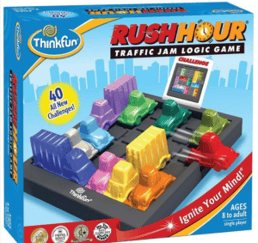 This one is a bit of a throwback, but as I was driving around Chicago the other day, I came across a car driving down the wrong side of the road to squeeze in a turn when they realized they needed to back up, in the middle of rush hour, to allow the oncoming cars to turn. The car proceeded to back up, forcing a school bus to reverse into a side street, allowing the other cars to continue through. It reminded me of the many hours I played Rush Hour as a kid. It's a super fun toy that lets you put your phone away and get to thinking logically.
As someone who loves to cook, and especially loves to grill, it became quite a pain trying hold my flashlight on my phone while flipping a burger. So, when I came across this, it was an immediate purchase. I've been grilling at night without a hassle ever since.
Despite living in a city with so many transportation options, I love to drive. It helps me explore the city and go visit new places and new people. The mount lets you easily put your maps or your music up on the car vent and continue to drive hands-free.'
From Mark
I am a big fan of these chairs that I just got for my own place. Nice Mid-Century Mod design and super comfortable. Plus… they're my favorite color. So, if you're looking for some reading or relaxing chairs for yourself or someone you like - these get my endorsement.
Does the golfer in your life hate paying $40+ for a dozen Titleist Pro V1 balls? (The answer to that is yes.) Well Costco just released its own brand of golf ball - $15 per dozen - and the warehouse giant can't keep them on the shelves. They have inspired a cult following and gone viral on the web, even listed on eBay for triple the price. If you can ever see them in stock, buy all of them. The golfer in your life will thank you.
Since everyone else was listing their favorite cookbook - I'll stick with the theme. The Food Lab is an awesome book that will teach you just enough science to be dangerous. Think Alton Brown on steroids, but not quite molecular gastronomy. Should you salt your steak as you put it in, five minutes before, 15 minutes before or longer? Should you "rough up" your roast potatoes before you put them in the oven? There's only one way to find out - The Food Lab.
From Josh
Bourbon is a bit overdone, but sometimes such popularity is well-deserved. I love startups, I love Chicago, I love a Bourbon, so why wouldn't I love a startup Chicago-based bourbon? For that friend with a liquor cabinet, think different this year - say no to Maker's, say yes to FEW.
This is the perfect travel mug. It's shape (tapered and with no handle) fits into any cup holder, its seal keeps coffee hot for hours and it just doesn't drip. Great for early morning traveling, as well. Take it to the airport empty, fill it up at Starbucks and then toss it in the seat-back in front of you without spilling.
An American classic, Wallace Stegner's Angle of Repose is about the balance of progress and tradition, and innovation and conservation. Told through a series of flashbacks to a simpler yet more complicated time, it just might change how you look at some of today's big issues. And beyond the deep stuff, it's just a great family drama.