Big Names Over Early Rounds: A 2020 Update to Our Analysis of TechCrunch Startup Funding News Coverage
In July of last year, I did some research into TechCrunch in an effort to answer one question:
Does TechCrunch care about early-stage startups anymore?
The research confirmed much of what I felt I'd seen, but I think to many who read the post it was a shock.
In short, early-stage funding news, or really any smaller rounds regardless of stage, were few and far between.
To be sure, there was coverage, but in the low single digits, percentage-wise.
So if TechCrunch isn't covering early-stage startup funding rounds, which many founders think is their birthright, what does it cover?
According to my research, big public tech companies (Tesla, Uber, Apple, Facebook, etc.), unicorns (WeWork, Airbnb, etc.), and big issues (mobility, AI, privacy, etc.).
And that's fine. I'm not here to say that's wrong.
After the research was done and the article was written, I wondered if it was truly representative of things, or just an odd week. (Though a few TechCrunch reporters I shared the article with said it felt about right.)
Less Funding Coverage Across the Board
With curiosity in tow, I monitored a week of TechCrunch coverage – the week of May 18, 2020, to be exact. I didn't go through all the hoops I jumped through in my prior effort, but below are the highlights.
First, if you're an early-stage startup – or basically getting any funding round under $20 million – TechCrunch is still just not that into you:
| | | | | |
| --- | --- | --- | --- | --- |
| Funding Size | Article Count 2020 | Percentage of Coverage | Article Count 2019 | Percentage of Coverage |
| Under $10m | 14 | 6.67% | 10 | 4.80% |
| $10m to $20m | 4 | 1.90% | 5 | 2.40% |
| $20m + | 14 | 6.67% | 26 | 12.00% |
| Total | 32 | 15.24% | 41 | 19.20% |
Here's a more visual breakdown, showing how the total slice of funding-related coverage has shrunk, even as sub-$10 million coverage saw some growth: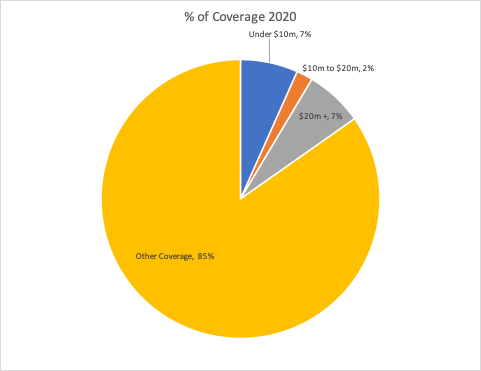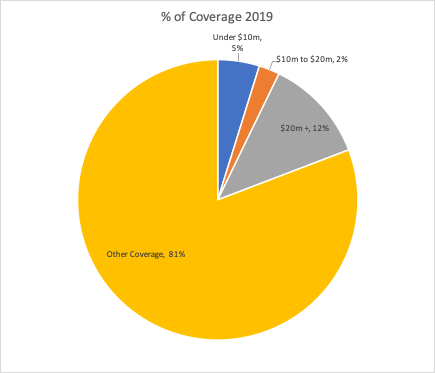 My take?
Related to smaller rounds, little has changed. They still aren't getting the TechCrunch attention that many startup founders believe to be automatic, though there was a relatively large uptick of sub-$10 million rounds.
Coverage of larger rounds fell dramatically. Numerous factors could cause this, key among them the rise of COVID-19 either disrupting rounds in place or companies simply deciding not to pursue attention at a time of national distress.
I also did one more calculation that I didn't in the original article. I looked up how many publicized funding rounds had taken place in total – after all, while it's impossible that the 32 funding pieces TechCrunch wrote covered every funding round, maybe it got a lot of them.
To really know how well TechCrunch captured everything, I also tallied up the number of rounds tracked by the three most popular startup funding newsletters, Axios Pro Rata, Fortune Term Sheet, and Strictly VC.
Among the three, Fortune Term Sheet had the highest total number of US-based startup funding rounds listed, with 65, so I've used that as my comparison metric.
Of course, the 65 listed in Term Sheet is an undercount of total raises, but it's difficult to say by how much, since many startups simply don't put the news out widely, either intentionally or out of apathy, disinterest, or lack of knowledge. Regardless, TechCrunch covered just one-half of them the week in question.
That's the end of the focus of this revisiting of TechCrunch coverage – it still doesn't give a big piece of its attention to early-stage startup funding news.
What Does TechCrunch Cover in 2020?
Here's a breakdown of the rest of TechCrunch coverage for the week of May 18:
| | | |
| --- | --- | --- |
| Article Type | Article Count 2020 | Percentage of Coverage |
| Big Trends | 16 | 8% |
| Profile (non-funding) | 14 | 7% |
| Big Names | 98 | 47% |
| International | 20 | 10% |
| Other (product reviews, opinion, etc.) | 31 | 15% |
| Funding | 32 | 15% |
| Total | 211 | 100% |
Here's what that looks like: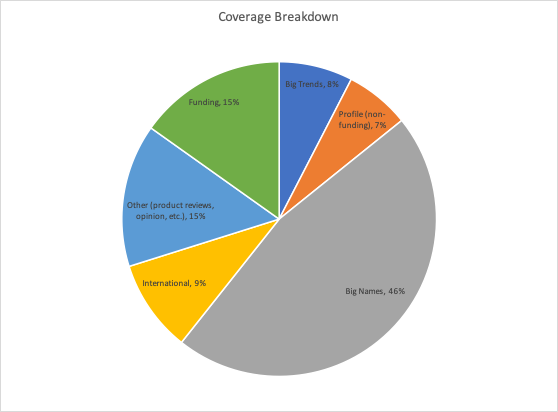 So what now? What if you're an early-stage founder? Do you write TechCrunch off entirely?
NO.
First off, however hard it may seem, TechCrunch coverage is worth the trouble. It's exciting for your team, it attracts investors (really!), and for the right startup selling the right product or service, it can bring in new customers.
Second, the numbers above suggest other ways to get TechCrunch's attention. For example, you could write an opinion piece. It can't be promotional, but – especially if you're a B2B startup – thought leadership can be incredibly important in your marketing mix.
You could also – maybe – get interest for a profile about your company if you're doing something particularly interesting and timely. And I mean really timely – here are the topics for each of the profiles during the week I analyzed:
So what if you don't have an opinion to share or a timely reason to get attention?
Check out the original post I wrote, which lays out in some detail the best way to build real, authentic relationships with TechCrunch reporters.
Beyond TechCrunch
The other important thing to keep in mind is this: TechCrunch is not the be-all, end-all of funding coverage for startups. Yes, it offers all the benefits I outlined above, but coverage in other outlets can do that as well.
For example, a funding round might be the hook you use to show that your company is innovating and growing to earn coverage in a trade publication.
For best results, focus on what you're hoping to achieve with your funding: growing the team? Building out product capabilities? Getting in front of new customer groups? Look for coverage options that will get you in front of audiences best equipped to help you achieve those goals, and you'll be on track for success.